Name of infrastructure: Plataforma Solar de Almería (PSA)
Location (town, country): Tabernas (Almería); SPAIN
Legal name of organisation operating the infrastructure: Centro de Investigaciones Energéticas, Medioambientales y Tecnológicas (CIEMAT)
CIEMAT stands for 'Centre for Energy, Environment and Technology Research'. The CIEMAT is a Public Organism for Research and Technological Development whose main goals are the development of energy resource, generation and environmental solutions.
The Plataforma Solar de Almeria (PSA), a division of the CIEMAT, is the largest concentrating solar technology research, development and test centre in Europe. It is located in the Tabernas Desert, 35 km from the city of Almeria.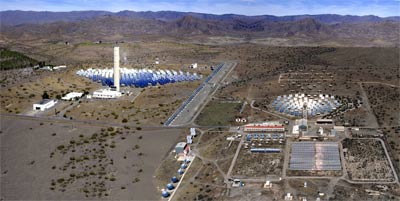 The PSA is basically a testing facility for applications of solar concentrating technologies. These technologies make use of parabolic/spherical mirrors to concentrate the direct solar irradiance, thus obtaining a high-density radiant energy source which can be transferred as heat to many industrial processes of commercial value.
Depending on the geometry of the solar concentrators (field of moving mirrors) different concentrations can be reached and thereby different industrial application temperatures.
The main lines of R&D at the facility are:
Development of the solar concentrating components, subsystems and auxiliary technologies.
To improve the integration of the concentrated solar energy in the industrial processes and to assess the feasibility of new industrial processes to accept the solar energy input
The PSA facilities cover the whole range of concentration levels as well as process temperatures, ranging from ambient temperature (heating & cooling of buildings) to several thousand degrees in the solar furnace for materials treatment or solar fuel production applications.
PSA activities are structured around two R&D Units, Solar Concentrating Systems and Environmental Applications of Solar Energy. The first is devoted to developing new and better ways to produce solar thermal electricity and the second to exploring the chemical possibilities of solar energy, especially its potential for water detoxification, desalination and disinfection.
The Plataforma Solar de Almería is offering access to the following facilities for research: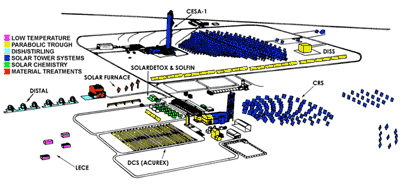 Central Receiver System (CRS):

This facility is used mainly for testing small solar receivers in the 200 to 350-kWth range. It has only one receiver located at the top of a tower on which sunlight is collected and concentrated by a field of heliostats.

Solar Furnace- 60 kW (SF-60):

With a power of 60 KW, focus diameter 25 cm and 3000 KW/m2 peak concentration, the SF60 solar furnace is devoted to research in the field of thermal treatments and characterization of ceramic and metallic materials and to solar chemistry experiments

Solar Furnace-5 kW (SF-5):

The SF5 is a 5 KW, vertical axis solar furnace with a peak concentration of 6000 KW/m2 and focus size diameter 2.5 cm. It enables tests on materials at very high temperatures and gradients in air, vacuum and controlled atmosphere condition.

DISTAL:

A dish/Stirling system consisting of a wide-diameter parabolic mirror with a Stirling-type external combustion motor installed in its focal area. Since the beginning of activities in 1992, three generations of prototypes have been erected and routinely operated at the PSA for their technical evaluation, DISTAL I, DISTAL II and EuroDISH.

DISS:

This facility was erected and put into operation in 1998 for experimenting with direct generation of high-pressure high-temperature (100 bar/400°C) steam in parabolic-trough collector absorber tubes. The DISS experimental plant is the only facility in the world where two-phase-flow water/steam processes in parabolic-trough collectors can be studied under real solar conditions.

HTF:

The HTF test loop, which was erected in 1997 based on an LS-3 collector, is an ideal facility for evaluating parabolic-trough collector components under real solar energy operating conditions. Mirrors, absorber tubes, solar tracking systems, etc., can be installed and evaluated in this facility, which is appropriately instrumented for measurement and monitoring.

DESAL:

The main desalination facility available for access is a 14-effect forward-feed vertically stacked multi-effect distillation unit. At a nominal 8 m3/h saline feedwater flow rate, the distillate production is 3 m3/h, and the thermal consumption of the plant is around 190 kWt, with a performance ratio over 9. This MED plant is coupled to a 500-m2 static CPC solar field with a 24-m3 water based thermal storage.

DETOX:

There are several CPC (compound parabolic collector) plants for water detoxification purposes. The oldest one (1994) consists of three 3-m2 modules tilted 37º from the horizon. The total system volume is about 250 L and the absorber tube holds 108 L (illuminated volume). In 2002, a new 15 m2 collector for experiments of up to 300 L was installed. It also has small twin 3.08 m2 prototypes with a 40 L total volume, 22 L of which is irradiated, for parallel experiments. Since 2004, a new CPC system, with 50 mm-diameter photo-reactor, more suitable for photo-Fenton applications, with tank and recirculation pump (75 L), has been hooked up to a 150 L biological reactor based on fixed biomass on an inert matrix, and 50 L ozonization system with ozone production of up to 15 g O3/h. All of it is monitored (pH, T, ORP, O2, flow rate, H2O2,O3) by computer.

DISINF:

There are several prototype CPC photo-reactors for water disinfection applications. One of these systems consists of an illuminated collector surface area of 0.42 m2, a total volume of 14 L and the illuminated volume is 4.7 L. In November 2008, another photo-reactor for solar disinfection was installed. It consists of two components, a CPC solar reactor and a pilot post-treatment plant. In this system, 45 L of the 60 L total volume are irradiated. The irradiated collector surface is 4.5 m2. The reactor is equipped with pH and dissolved oxygen sensors. The water post-treatment pilot plant consists of a 100 L tank for separating the TiO2 from the treated water. In 2010 several plants were installed:
(i) two CPC photo-reactors for duplicate experiments with volumes of 7 to 25 L (1m2 illuminated area);
(ii) Two 25 L CPC photo-reactors for discontinuous operation (0.58 m2 illuminated area);
(iii) A 60 L CPC photo-reactor (illuminated area of 4.5 m2), with a temperature control system (20 to 55º C) and several dissolved oxygen measurement points and air injection points.

ACUREX:

This is a 1.2-MWth parabolic-trough collector system, with an associated thermal storage system. This field is a test bench for advanced control algorithms.
For further information on these facilities, visit the web site www.psa.es or request for further details to access-sfera

sollab.eu where your request will be redirected to the appropriate partner.
The test facilities described above are equipped with all the necessary sensors and instrumentation for data acquisition and the Users will have all the ITC resources they need to process their test data and to transmit them to their home laboratories.
Some laboratories are also available. There is a chemistry lab for water analysis, a materials lab equipped with a SEM microscope and a radiometry lab for calibration of the instruments used to determine the flux available in each experiment.
Each User is under the direct responsibility of a PSA Installation Project Leader (IPL) corresponding to his line of work or installation so the User projects can benefit most from the facilities.
Free bus transportation between PSA and Almeria will be available to all Users.
Furthermore, the PSA's Access Manager and programme secretary will act as their hosts, caring for such details as travel arrangements and lodging and, in general, attempting to solve any difficulties the User may come up against.