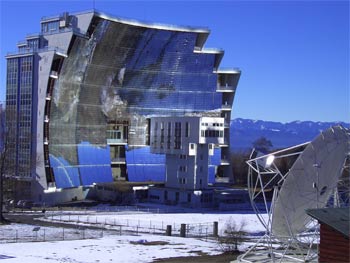 PROMES-CNRS at Font-Romeu - Odeillo and Targassonne (France) offer through SFERA access to a whole range of high and very high flux solar furnaces and to a solar tower. A large variety of modular reactors and equipments are available for these facilities, designed and developed at the laboratory, to perform in the best conditions high level research in numerous scientific domains. In addition, versatile supports enable to easily host foreign experimental reactors at the solar facilities. Finally, an extended set of in-situ diagnostic apparatus and advanced material analysis and characterization systems complete the infrastructure. As for the environment, users can benefit high grade scientific and technical support at work and enjoy after the surroundings associated with ski resorts.
The facilities are perfectly suited to support high-risk - high-gain fundamental research as well as more established mature research up to an industrial pilot scale. The easy availability of high heat flux and/or high temperatures without contamination in controlled atmosphere (pressure, including secondary vacuum, composition…), make these facilities unique for a large research domain.
Facililties offered for access
Nearly all PROMES-CNRS solar facilities are offered to SFERA users: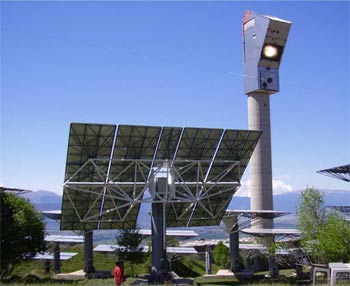 Solar Reactors available
The solar furnaces MWSF and MSSFs are associated to numerous reactors available to SFERA European users :
Instrumentation offered
All the solar installations profits existing instrumentation (not applicable for the Themis powerplant):
high grade in-situ diagnostics: optical or optical fiber pyrometry, optical fiber pyro-reflectometry, radiometry and spectro-radiometry, infrared camera, infrared spectrometry, classical and open-source mass spectrometry, optical spectroscopy (OES),...
advanced materials analysis and characterisation techniques: SEM, XPS, AES, ELS, XRD, EPMA (EDS, WDS), IRTF gas chromatography, ICP-MS, ?

weather notably sun flux realtime inline measurements
different data acquisition systems
Working stay organization
For each User Group, one specific PROMES-CNRS staff, working as near as possible to the relevant fields, will be the link to allow a smooth and fruitful working stay:
Suggestion to harness the possibilities of solar concentrated energy
Guide for the technical preparation of the experiments
Formation, assistance, discussions (as relevant) during the working stay
As required, an initial visit on site is organized for the User Group Leader in order to facilitate the preparation of the stay.
The schedule of the facilities will be organized with a priority for SFERA User Groups (MWSF, EuroDish, MSSF 6kW, Mini-Pegase). The number of MSSFs (10) should insure immediate access to these facilities.
The MSSFs and the EuroDish are fully equipped and can be operated easily. After the assembly of the experimental set up, the individual users or user groups can use the facilities practically independently with a minimum assistance. Nevertheless, an experienced scientific and technical team is permanently available for assistance at these facilities, their experimental equipments and associated diagnostic apparatus.
For the MWSF, Mini-Pegase and for some of the specialised diagnostic and characterisation technologies, specialised staffs will be available full time during the stays, due to the complexity of the equipment and/or security concerns.
Environment
The total staff of PROMES is around 70 scientists, engineers and technicians which main research areas are developed on the laboratory website. The laboratory has a long history of welcoming outside researchers, and the infrastructure for supporting their work at every phase is well developed.
The laboratory branch in Odeillo hosts about half of the laboratory staff in about 5000 m2 of offices, laboratories, technical rooms, meeting rooms, a library. Two fully equipped offices for up to 10 people are dedicated for SFERA. Secured high speed Internet access through WIFI is available in these offices and in most of the experimental rooms.
User groups (maximum 3 persons) are hosted in local hotels at immediate proximity, transportation is organized as required. The area is touristy both in summer (hiking) and in winter (ski) so that entertainment after work is varied and easy, including without vehicle.
For further information on these facilities, visit the website:  http://www.promes.cnrs.fr/index.php?page=home-en or request for further details to access-sfera

sollab.eu where your request will be redirected to the appropriate partner.